Agriculture Recruitment Specialists
At FRS Recruitment we identify, recruit, and develop the best talent across the Agriculture industry. As FRS Recruitment is part of the FRS Network, the Agriculture team work closely with Herdwatch & FRS Farm Relief Services leveraging our 40 years of experience within the industry. As well as recruiting across Ireland and the UK, the Agriculture team work closely with Agriculture companies in the Middle East, Australia and New Zealand. Read more about how we have recently supported AHV with their Agriculture Recruitment here
Since 2015 the Agri Recruitment team have become exclusive & retained recruitment partners for many employers in the Agri / Food sector due to their dedication and hard work. Recruiting employees that ultimately add value to a business has been key to their success. The Agri Recruitment team is currently in the process of hiring an additional team member due to the continued growth & success within their division.
The Agri Recruitment team currently recruit for the following roles , in the process they deal with everyone from Graduate level through to GM & CEO Level.
The agriculture division recruit across various positions in the agricultural industry, including but not limited to:
Customer Service & Technical Support
Technical Sales ( B2C & B2B )
Marketing
Account Management & New Business Development
Operation Managers
Assistant Farm Managers ( Middle East )
Farm Advisors
Mechanic & Workshop Managers
Warehouse Operatives & Managers
The Agriculture team is made up of John Miller & Gerald Farrell.
John Miller has been working with FRS Recruitment since 2006 and comes with 15 years recruitment experience. Coming from a farming background John always had a strong interest in agriculture and since 2014 he has been recruiting specifically for the Agri /food sector. In that time he has developed very strong business relationships with many employers while also building a strong network of candidates from the agri-food sector. Typically john recruits for middle management to senior level management roles.
Gerard Farrell joined the Agri Recruitment team in 2019 and is currently in his 3rd year working alongside John , Gerry had been previously worked in employment services within FRS so the transition into recruitment was seamless for him. On a daily basis he is very hands on and he typically recruits for junior to middle management type roles.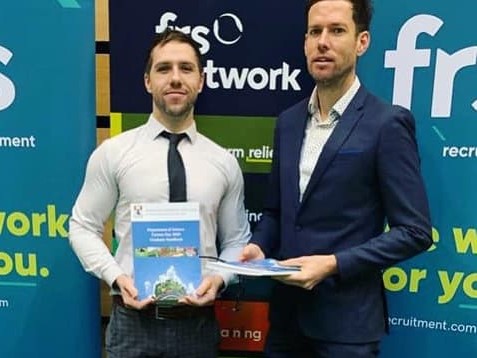 To find out more about working with the agriculture team and opportunities within the agricultural industry please fill out the enquiry form below and we will get back to you.