Any Airline can take you home..We can bring you home for good!
Moving home can be a daunting experience, especially after living abroad for many years. For many Irish expats considering a move home, the uncertainty of what to expect is a major concern. But at FRS Recruitment we want to make it as easy as possible for you. We are even offering free flights home! Register your interest below and a member of our team will be in touch to discuss the career opportunities waiting for you here in Ireland.
To help overcome these concerns, FRS Recruitment launched the Ireland is Hiring initiative in 2018 to share advice and insights to Irish citizens living abroad. The campaign began with the sponsorship of the Victoria vs NSW Hurling match at the Sydney Irish Festival, and was followed by multiple information roadshows in Sydney, Melbourne and Brisbane.
Find out more about these events HERE.
After the success of the Ireland is Hiring initiative in 2018, in 2020 FRS Recruitment has become a major sponsor of the GAAGO, RTÉ and the GAA's online service for streaming Gaelic Games outside of Ireland, for 3 years. The GAAGO app live streams GAA matches to Irish Expats all over the world, allowing FRS Recruitment to reach and share advice to Irish Expats worldwide. We think we're a perfect match (see what we did there?)
Read about it HERE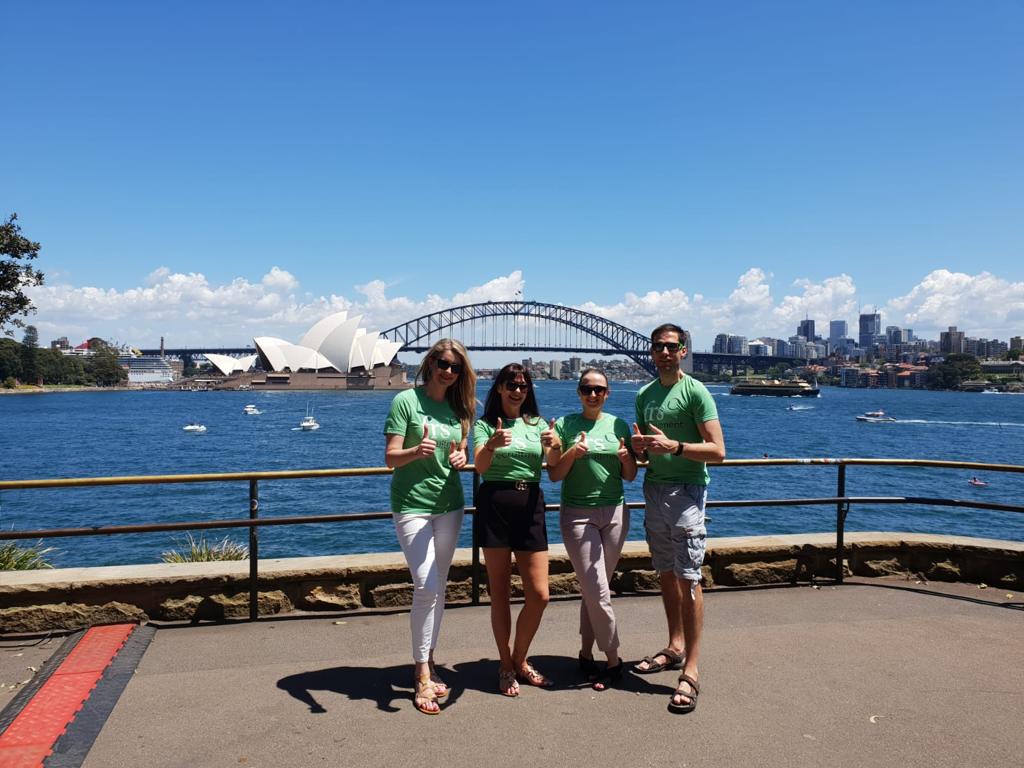 Watching 70 minutes of GAA from anywhere in the world is more than just a sport, it is 70 minutes of home! 70 minutes that transports you back to the place you were born, where your family and loved ones are, where you belong! And this has never been truer in this year of the pandemic. Home seems even further away for the foreseeable future. Home never seemed so far away. So, with fewer opportunities to enjoy a taste of home, we have decided to create unique 70-minute film experiences. Click on the image to watch your 70minsofhome.
FRS Recruitment created the Ireland is Hiring webinar series to share advice and answer the many questions Irish expats were asking regularly. To date the webinar series has featured guest speakers from companies such as AIB, the Crosscare Migrant Project and Palmers Relocations.
Find out more HERE
Click on the image for more information
FRS Recruitment offer free flights to Irish Expats that are placed in jobs. Yes, you read that right! This exciting offer was initially launched as part of information roadshow events in Australia and has since been opened up to Irish Expats worldwide. Click HERE to read the T&C's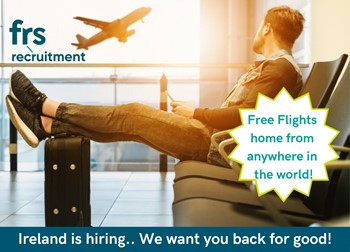 Moving Home to Ireland Stories
Read articles from people who have already made the move home. What better way to gain an insight into what to expect and how to settle back into Irish life than to read stories from people who have made a similar move.
Read them HERE